Light Rail advancing with "fantastic" community response
21 June 2023
Auckland Light Rail (ALR) is reporting rapid progress towards advancing the project thanks to a fantastic community response to help shape ALR's preferred route, and the end of the first round of its critical geotech work.   
"Together the much clearer picture of what is important to the community above ground and the information from our test bores below ground mark two significant steps towards our mid-year goal – confirmation of ALR's route and station locations and getting our consenting process underway," says Tommy Parker, Chief Executive for Auckland Light Rail Ltd (ALR Ltd).
Mr. Parker describes the more than 1500 responses ALR received from its latest community engagement as "fantastic and valuable" insights. 
"Public support for the project remains very high, with 70 percent support from people who gave us feedback," Mr. Parker adds. "We're grateful to everyone who took the time to get involved – it has been very successful and worthwhile for ALR."  
 ALR went to the community to ask for feedback relating to the preferred route for the 24-kilometre long airport-to-central city system:
Two options for light rail to connect into Māngere
Two options for a shared light rail and traditional or heavy rail route in the Onehunga area
New station hubs at Dominion Junction and Kingsland
ONEHUNGA
Mr. Parker says more than half the people ALR heard from were from Onehunga, or gave feedback about the Onehunga options.   
"We heard there was a strong preference for a simpler and more direct light rail route alongside the Southwestern Motorway (State Highway 20) and the Onehunga Bay lagoon."
MĀNGERE
Support for ALR on the south side of the Manukau Harbour was also strong, Mr. Parker says, especially from people who work in the airport commercial precinct area and for shift workers.   
"There is a strong desire – almost 80 percent – for light rail to connect into the Māngere town centre.  The motorway route option was the least preferred and is seen as too difficult for people to access."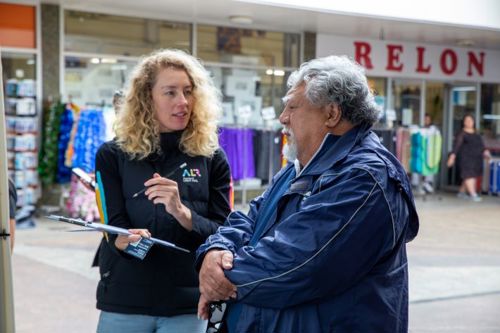 DOMINION JUNCTION AND KINGSLAND
Mr. Parker says ALR received a range of ideas about the Dominion Junction and Kingsland station hubs to make light rail both a convenient and enjoyable part of everyday life.
"These two hubs are seen as more than travel destinations but places where people can shop, socialise and do business. People want the stations to be easily accessible for walkers and cyclists, and for those travelling from further away by bus or other transport options."    
NEXT STEPS
Mr. Parker says all feedback is now being considered by ALR's design and planning team before final decisions are made.
"We're looking at various implications and trade-offs involved regarding impacts on property, the environment and landscape. We are committed to continue to work with our communities, especially those in Onehunga and Māngere, and we'll be back in touch to share our decisions and next steps about the route and stations," Mr. Parker says.
The community feedback can be viewed in a 'Summary of Public Engagement' document here.
UNDERGROUND INVESTIGATIONS 
Mr. Parker says the second project advancement involves data collected from 30 boreholes drilled mainly across the city's narrow central isthmus between Kingsland and Wesley.
"The data gives us a 3D picture of Auckland underground. As part of the drilling work, we discovered several layers of basalt lava flows 40 to 50 metres deep, belonging to the historic Auckland Volcanic Field. These are 'no-go areas' where it would be difficult for us to build our tunnel. It's critical information that allows us to work out the exact path for the tunnel and where stations could be located."
Mr. Parker says ALR plans to confirm the preferred route and station locations in the next few months when it lodges Notice of Requirement documents with Auckland Council to protect the land needed to build light rail.  
The Auckland Light Rail route will be 24 kilometres long – half of it tunnelled – and include up to 18 stations between central Auckland and the airport. Alongside better transport connections between the city's two biggest job centres, ALR will give people easier and more frequent travel around their city and deliver transport resilience and environmental benefits.  
For more information contact:
Ewart Barnsley
Media Manager, Auckland Light Rail Ltd
Ewart.barnsley@lightrail.co.nz
+64220152118